Arts & Entertainment
The Detroit Region Aerotropolis has a lot to offer for entertainment and arts. Whether it's going to the symphony, a museum, the zoo, or a sporting event, there's something for all ages. Outdoor enthusiasts can enjoy golfing, boating, and many beautiful parks, not to mention our Great Lakes! A notable renovation is the Motown Museum in Detroit, receiving a $50 million upgrade and a 40,000 square foot addition.
Higher Education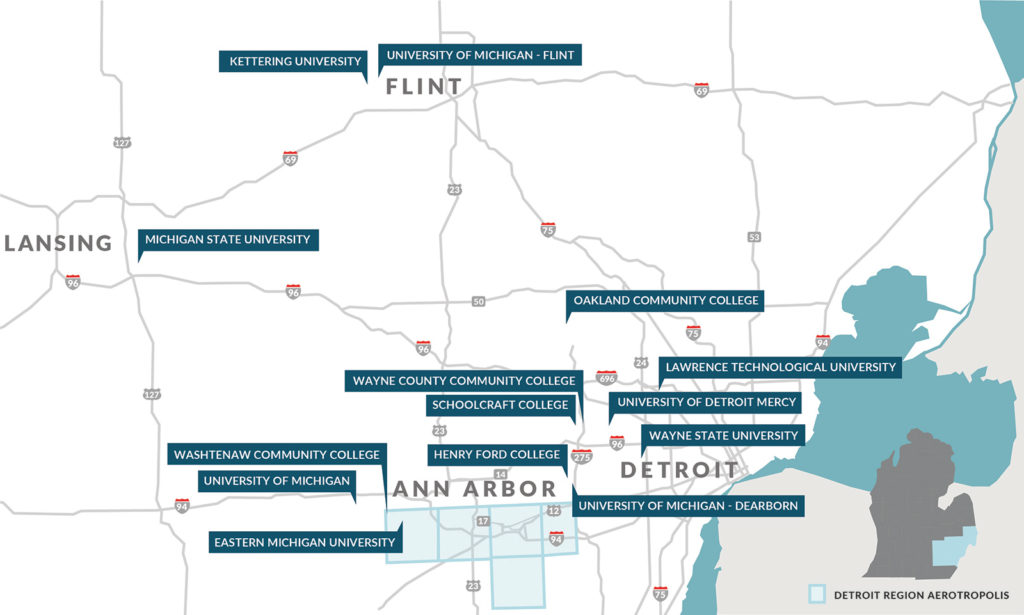 Eastern Michigan University
Student Population: 21,634
Eastern Michigan University is situated in Ypsilanti, MI  and offers over 200 majors, including graduate programs. The student-athletes compete in NCAA division 1 programs.
---
Henry Ford College
Student Population: 13,836
Henry Ford College is a public two-year community college founded in Dearborn, Michigan in 1938. Students can earn an associate's degree in 23 different majors.
---
Kettering University
Student Population: 1,991
Well known for undergraduate and graduate STEM programs, Kettering University is ranked #7 nationally for Mechanical Engineering and #13 for engineering programs. Kettering is a private cooperative educational institution that focuses on experiential learning. From the U.S. Department of Education's College Scorecard, Kettering was ranked first in Michigan among four-year programs for engineering, computer science, biological science, physical science, mathematics, and business programs.
---
Lawrence Technological University
Student Population: 4,015
Lawrence Tech was founded over 80 years ago by Henry and Edsel Ford. In 2016, it was ranked 5th for civil engineering programs among universities who offered this area of study in bachelor's and master's degrees. By the Business Insider, it was ranked among the 610 "Smartest Colleges in America."
---
Michigan State University
Student Population: 50,085
Michigan State University is first in Michigan and ninth in the nation for the amount of international students enrolled in its programs. For undergraduate programs, the supply chain management and logistics program topped the charts at number 1. The nuclear physics graduate program at MSU also came in with a number 1 ranking, along with elementary education and secondary education. The supply chain and logistics and higher education administration graduate programs came in just behind these at number two.
---
Oakland Community College
Student Population: 26,405
With five campuses, Oakland Community College is the largest community college in Michigan and one of the largest in the nation. OCC offers certificates and degrees in almost 100 in-demand career fields and university transfer degrees in business, science, and liberal arts. Nearly 50% of students intend to transfer to a four-year institution. With over 200 transfer agreements in place, OCC students can tranfer seamlessly to their university of choice.
---
Schoolcraft College
Student Population: 12,385
Schoolcraft College is a community-based college located in Livonia, Michigan, with a satellite campus in Garden City, Michigan. Students can choose from 15 different fields of study.
---
University of Detroit Mercy
Student Population: 4,920
A liberal arts college in Detroit, the University of Detroit Mercy offers 100 academic programs for its students to choose from. In the U.S. News and World Report rankings, it tied for 24th place for Regional Universities Midwest. It is also ranked at number 32 in Best Value Colleges.
---
University of Michigan
Student Population: 43,625
Located Ann Arbor, Michigan, the University of Michigan has 260 degree programs and 103 graduate programs. The U.S. News and World Report ranked Michigan 4th for Top Public Schools. U of M's marketing and management programs were ranked number one in the nation and undergraduate teaching was ranked at number 7. The undergraduate engineering programs ranked 6th in the nation and the Environmental/Environmental Health Engineering and Industrial/Manufacturing Engineering programs ranked #2.
---
University of Michigan-Dearborn
Student Population: 9,066
The University of Michigan-Dearborn is a public institution in Dearborn, Michigan. Students can choose from 60 fields of undergraduate study and 30 graduate programs. It's currently tied for 40th for Regional Universities Midwest and ranked 6th for Top Public Schools, according to the U.S. News and World Report.
---
University of Michigan-Flint
Student Population: 8,470
A 73-acre campus in Flint, Michigan, the University of Michigan-Flint is currently ranked #32 for Top Public Schools. U of M-Flint offers over 100 undergraduate and 18 master's degree programs that are recognized for their excellence and relevancy. Its faculty develops curriculum with industry professionals to ensure students gain experience and skills they need to succeed.
---
Wayne County Community College
Student Population: 20,440
Wayne County Community College is located in downtown Detroit, and offers 21 different fields of study for its students. Popular programs include Liberal Arts and Sciences, General Studies and Humanities, Health Professions and Related Programs, and Mechanic and Repair Technologies/Technicians.
---
Wayne State University
Student Population: 27,578
Wayne State University is an American public research university in the heart of Detroit. The U.S. News and World Report ranked it as the #2 medical institution in Michigan for research and the top-ranked physician assistant program in Michigan. Wayne State houses a $90 million facility, called Ibio, which is used to help eliminate health disparities in Detroit. It is ranked second in Michigan and top 100 nationally for the Best Law School from the U.S. News and World Report.
---
Washtenaw Community College
Student Population: 12,932
Washtenaw Community College has been offering affordable tuition rates, high-quality classes, and low student to teacher ratios for over 40 years. WCC is located in Ann Arbor, Michigan and offers associate degrees through convenient weekday, evening, and online classes.
---
Climate
The Detroit Region has an annual high temperature of 56.7 degrees Fahrenheit. On average, there are 133 days with precipitation with an average of 30.97 inches. There are 2,375 annual hours of sunshine and July and August are usually the hottest months, with an average temperature of 82 degrees (U.S. Climate Data).
| | | | | |
| --- | --- | --- | --- | --- |
| | Jan | April | Jul | Oct |
| Avg High Temp °F | 31 | 55 | 82 | 60 |
| Avg Low Temp °F | 19 | 44 | 63 | 44 |
Cost of Living
Estimated Median House/Condo Value (2013, City-Data.com)
| | |
| --- | --- |
| Aerotropolis | State of Michigan |
| $101,600 | $117,500 |
Median Gross Rent (2013)
| | |
| --- | --- |
| Aerotropolis | State of Michigan |
| $774 per month | $629 per month |
Average Wage Growth Rate
| | |
| --- | --- |
| Aerotropolis | State of Michigan |
| +16% | +4.38% |
Residential Vacancy Rate