Why Detroit region Aerotropolis?
It's a Region Rich with Resources for Global Companies
Workforce
Workforce: 3 million
Higher Education: 17 instutitions
Fotune 500 Companies: 13
Land available: 60,000 acres
Location
Port of Detroit: 25 minutes
Port of Monroe: 25 minutes
Downtown Detroit: 25 minutes
Ann Arbor, MI: 25 minutes
Toledo, OH: 45 minutes
Lansing, MI: 65 minutes
Ambassador International Bridge Border Crossing & Detroit-Windsor Tunnel: 20 minutes
Detroit Metro Airport
Domestic & International
Commercial and freight
Passengers: 33M (2015)
Cargo: 426M lbs (2015)
Daily Flights: 1,100 to 4 continents by 13 airlines
Willow Run Airport
Cargo: 200M lbs anually
Carriers: 5
Leading airport for landed air-freight flown by exclusive cargo aircraft
Home of the American Center of Mobility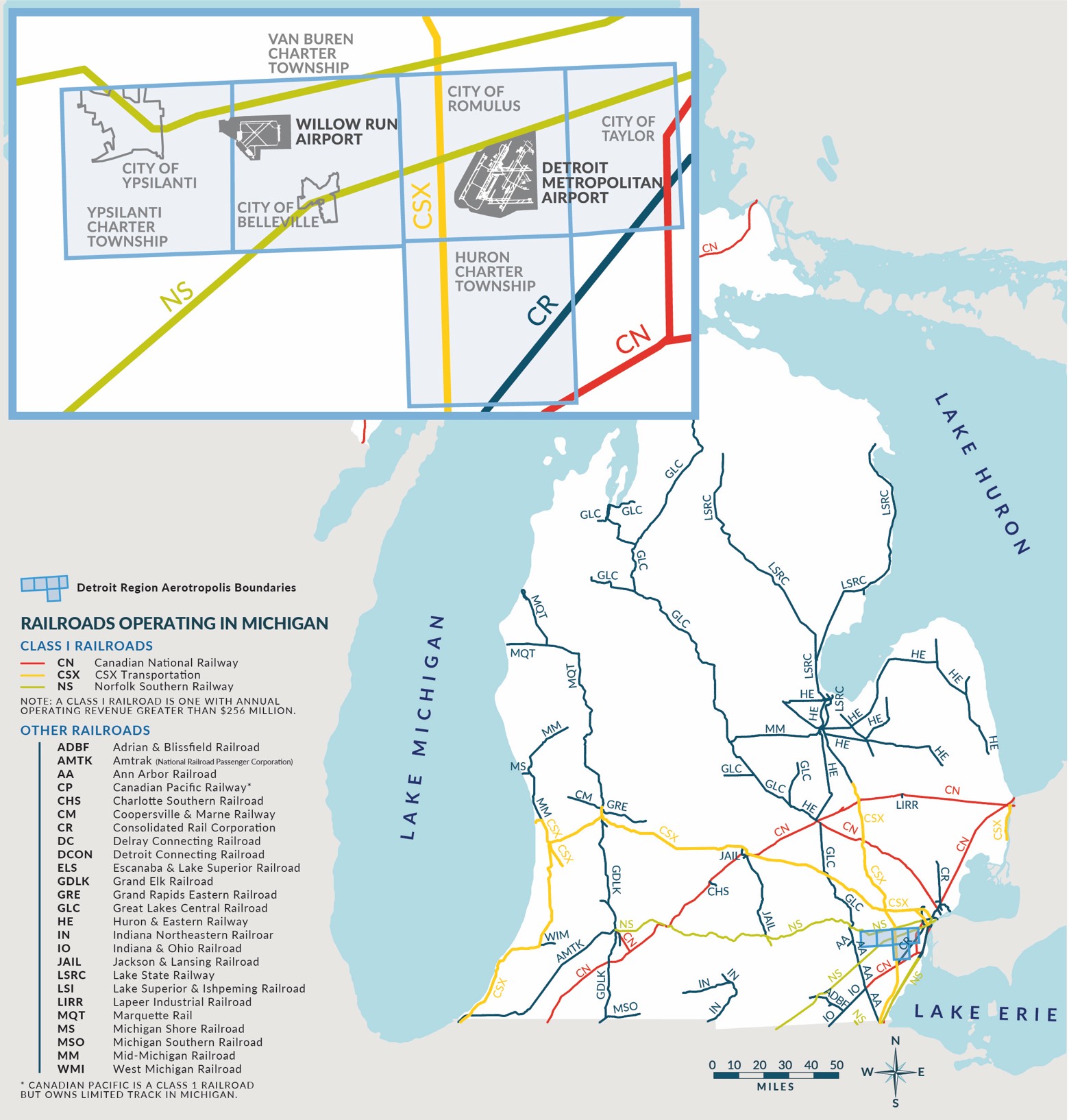 Economic Overview
The Detroit Region Aerotropolis is made up of five communities and crosses the border of Wayne and Washtenaw counties. The region is home to over 200,000 residents and covers an area of over 150 square miles.
The Aerotropolis is home to two airports: the world-class Detroit Metropolitan Airport and Willow Run Airport. Detroit Metro provides over 140 domestic and international non-stop daily flights. Willow Run Airport is a general aviation and cargo airport, as well as the future home of the American Center for Mobility.
Intersecting the Aerotropolis are two freeway corridors. I-94 runs west to Chicago and east to Detroit and Canada. I-275 connects the northern Michigan region the rest of the United States.
Four Class-A rail lines run through the region from Canadian National, CSX Transportation, and Norfolk Southern, with spur and short line access also available.
Higher Education
There are several great colleges and universities that are located in the Detroit Region Aerotropolis, including two Big 10 schools: the University of Michigan and Michigan State University.
Live, Work & Play in the Aerotropolis
The aerotropolis region provides many great cultural, entertainment, and recreational opportunities. It's also a quick drive to Detroit, Ann Arbor, and Toledo, OH where you can take advantage of even more opportunities.
Art museums, professional theaters, and art and music festivals provide many cultural opportunities for creative residents and visitors. Several large venues attract internationally and nationally know musicians, bands, comedians, and entertainment. For those who love sports, Detroit is home to four professional sports teams: the Detroit Tigers, The Detroit Pistons, the Detroit Red Wings and the Detroit Lions.
Families enjoy exploring history museums, zoos, fairs and festivals, and many local family-friendly attractions.
For those who want active lifestyles, the region boasts golfing, boating and fishing, and outdoor experiences. Many communities have developed wonderful parks as well as hiking, biking, and running trails.